Mike Heck describes the importance of being dressed for the occasion while on the water.
Year after year, I have seen "Mother Nature" change her pattern as we head into September. When Summer turns to Fall we start getting those good rains again. It's not heavy enough to keep you off the water though, because the fish bite is on!
With Fall we see the arrival of Steelhead, Salmon, and lake-run Brown Trout seasons. Fishing for these species often comes with battling unpredictable weather.
The only reason I mention all of this is because you need to be prepared with the proper equipment and the right apparel. There is nothing worse then getting soaked while on the water.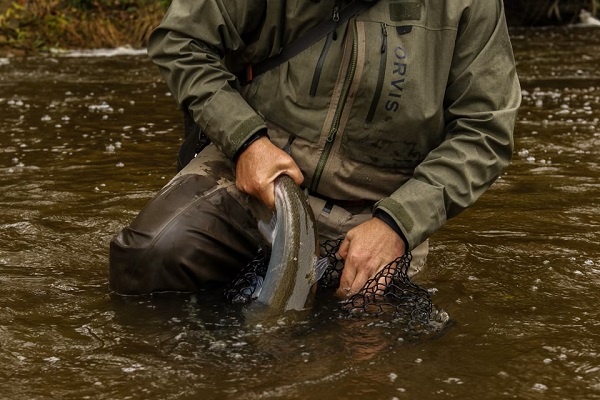 Recently, I had the pleasure of guiding a client who traveled up from Georgia, so there was no rescheduling. As luck would have it, we encountered a "monsoon" on the Yellow Breeches. Even with all the rain, the fishing was incredible. He caught 20 browns during the on again, off again downpours. At times the rain was so heavy that it was hard to tell if it was a strike or rain. Unfortunately, he did not have the proper rain gear. So, to make him more comfortable I gave him my Orvis rain jacket and I grabbed my cheap rain jacket that I use for golfing and we finished the morning. The result was, he stayed dry and I was soaked clear through. It was 75 degrees out and I actually had a chill.
As you probably can surmise, the moral to my story is that even in the rain, the fishing can still be spectacular. If fish are hungry, they will feed no matter the conditions. Snow and winter weather will soon be on the way and they will still be feeding then as well. We anglers have to be prepared for these wet and cold conditions.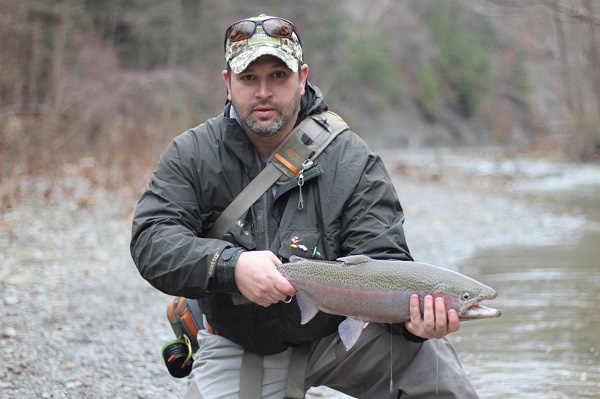 Orvis and Simms are a few of the brands we carry that make an excellent rain jacket. These jackets have waterproof pockets to put fly boxes in so you do not have to keep unzipping your jacket if you need to change flies. They also have hoods and Velcro wrist straps to help prevent water from entering your arm areas. Top off your jacket with a water-resistant fishing hat and you'll be good to go.
So, head into one of our three Precision Fly and Tackle locations to prepare for foul weather fishing. Trout, Salmon and Steelhead are there to be caught, so don't let a little foul weather keep you off the water, just be prepared. With the proper equipment and apparel, you can stay dry and comfortable even in the worst of weather.