Tom Herr, Steelhead guide for Precision Fly & Tackle shares several tips that a Steelhead angler can use to make their next trip to Erie a successful one.
I'm sure we all have felt it at one time or another. That feeling we get from reading an article or seeing that image that tells us that we have just gotta give that a try someday. And then perhaps there's that feeling that it probably won't happen because it just costs too dang much to do it. Seeing a pic of a large brown caught in the waters of the Awakino River in New Zealand or a Golden Dorado lifted from the waters within the Amazon rainforest in Bolivia. It's all great stuff and we all would like to do it and perhaps some day we can but then again – on second thought, it just might be too far of a dream to reach. Perhaps though – what we fail to realize though is that within a half days ride depending on where you live in Pennsylvania, you can be wading the waters and casting to lake run steelhead that can and often do exceed 10 lbs. And that is an experience that is within an easy reach logistically and financially.
And that is what I thought in the 80's when I read that article and saw that image. Just had to give it a try. And did I ever skimp on the cost of things. Sleeping in the back of my truck at the last roadside rest on Rt. 79 north before you get to the Girard exit, taking a sink shower there at the end of the day, when it was raining or snowing – changing clothes in the men's room there. I always wondered what people thought when I opened the back door to my truck cap, reached over the tailgate to open it and crawled out after another restful night. Especially that family van full of kids with their noses pressed against the glass as I'm standing there freezing putting a warm shirt on. "Sorry dad – I didn't realize you parked next to me. Still a bit groggy you know." And for meals – cooking dinner down at the bottom of the hill off of Platz Road at Sterratania. I've also been known to wake up there as well……. But that's a whole different story……..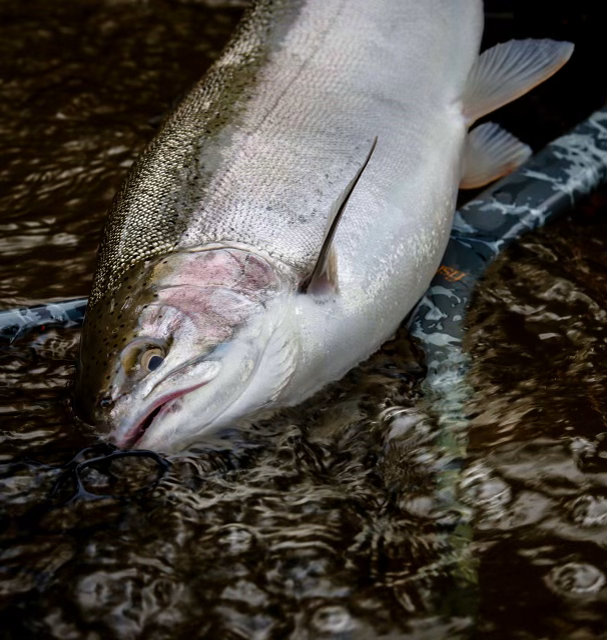 But it's a passion that grew on me and pretty much takes over when that time of year arrives. It's been almost 35 years now and through it all – for me the passion has changed slightly. I still feel that skip of a beat in the heart when you feel that take from a lake run steelhead but what I get more pleasure out of is seeing the smile and hearing the excitement of someone I'm with who finally gets to lift one of these fish out of the water and hold them for the first time. It really is an incredible thing to be part of. It truly is an experience, not simply a catch and I've seen a few reduced to emotion when they feel the life of that fish. And it's not just steelhead – that's the great thing about guiding – you get to see this quite often on any species of fish your chasing – but steelhead kind of takes the cake with me, I guess. And as I'm experiencing the hopefully slow ageless approach of 70 years old, that passion is stronger now than ever before! Perhaps it's because maybe I know that window is always closing to share this passion with others and I'm at the point that it could slam shut at any time but my young mind tells me not to worry. And I don't and I never, ever will.
So it is that time of year when many of our minds turn to Erie steel. As a result, I often get messages or texts from others asking questions or wondering what it will be like this year. Where to stay, where to eat….. And no – I don't recommend to them the roadside rest off of Rt. 79. But what I do recommend is several things.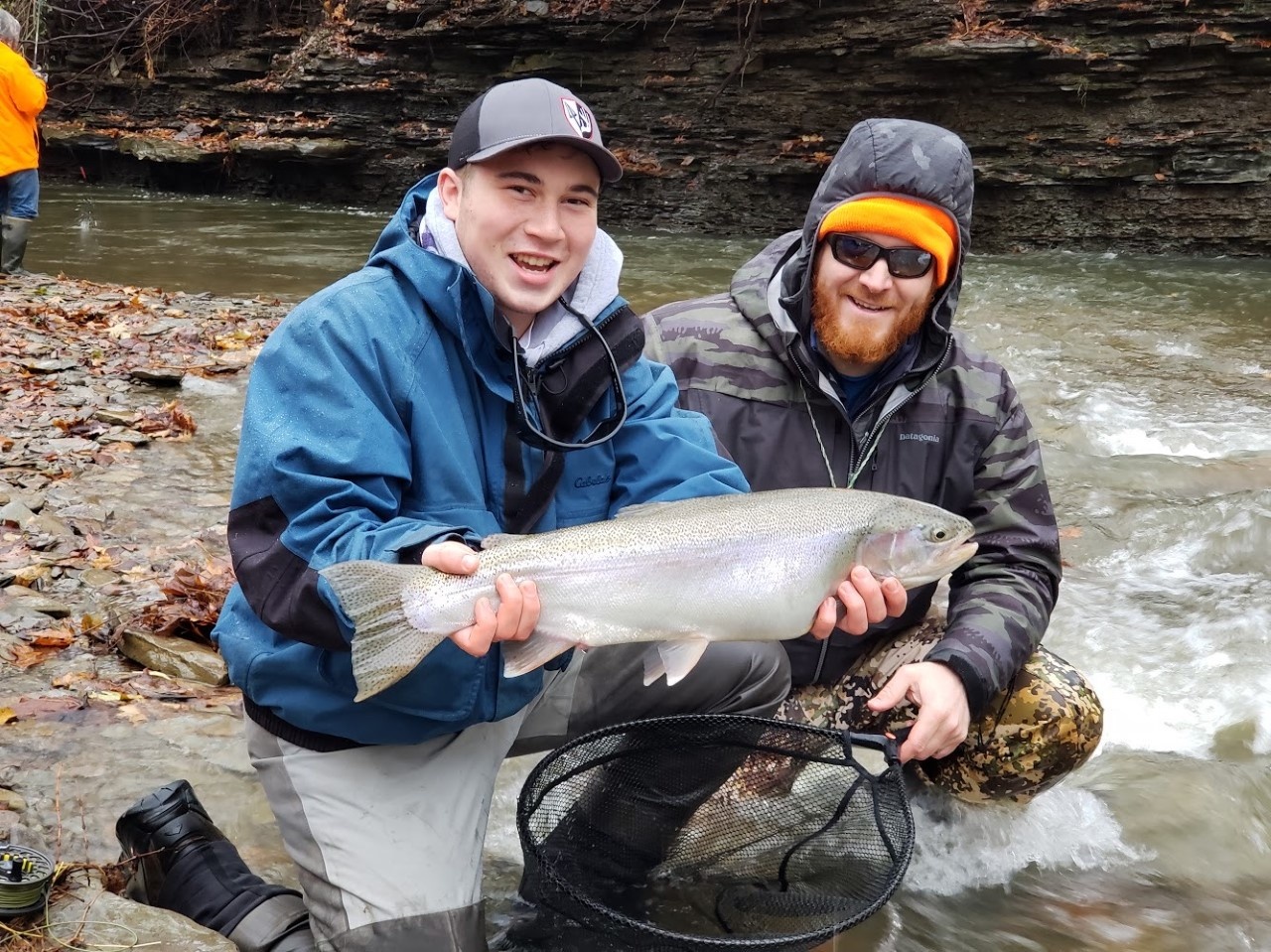 1. For first timers or even for those who have been there a few times – Hire a guide. Yes, I'm in the guide business and perhaps one may think that that line is just a promotion but in reality – the guides who are there know where the fish are. They have already spent time there and have walked the miles finding them. If you're only going up for a few days – unless you are familiar with the area and have been following the stream gauges and water temps and fishing reports and have connections up there – you really do not know where the fish are. And where they are one day – they may not be there the next. A guide will put you on fish the day or two you're with him or her. And they will show you techniques that you may not be familiar with. Money well spent and if you can swing it – multiple days spent with a guide is even better as the tribs can be blown out one day and perfect the next. Two or more days booked increases your chances of a great day on the tribs. And what you learn you can use for future trips if you plan to go it alone.
2. Rigging for steelhead is one question that I get asked a lot about and to be honest – I make it simple. I use a 7 ½ foot nylon leader tapered to 3X. I tie on a large tippet ring to the end of that and then tie on a 3-foot fluorocarbon tippet of 4X to the other side of that ring. This way I am not sacrificing the leader – only the tippet. The reason for the flouro is for the abrasion resistance which you need for these fish.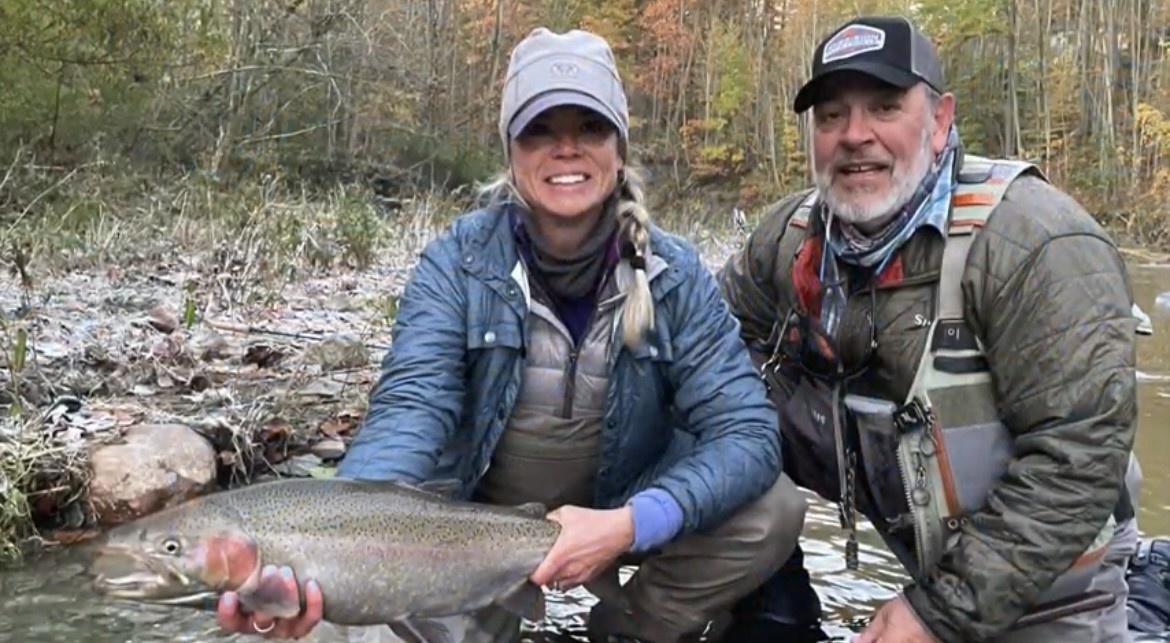 3. "What weight rod is best for these fish?" Personally, I have found that a great rod weight for lake run steelhead is a 10' 7 weight. Although I used a 9' rod for many years, I have found that the 10' gives me better reach and "feel" on the take. 10' 7's is what we will be using for our clients who book trips with us this year. Some like the feel of a 6 weight and some even use a 5 weight but personally I just think unless your perhaps swinging flies with a trout spey, a 5 weight just doesn't give you the handling characteristics that a 6, 7, or 8 weight rod will give you when landing a 10 lb. + steelhead.
4. "So where is the best place to stay when I'm there?" Again – as mentioned before – not along the highway in your truck at a roadside rest unless you're a lot younger than I am. The Green Roof Inn is a great place – a motel of sorts with great prices and a fish cleaning area if you decide to keep a few. Gotta reserve your spot early though – like at least four or more months in advance. Various Air BNB's are available as well as chain type hotels closer to the city of Erie. Finding a place to stay is not an issue anymore – you just need to make sure you book in advance. Google is a great resource for finding lodging in the area.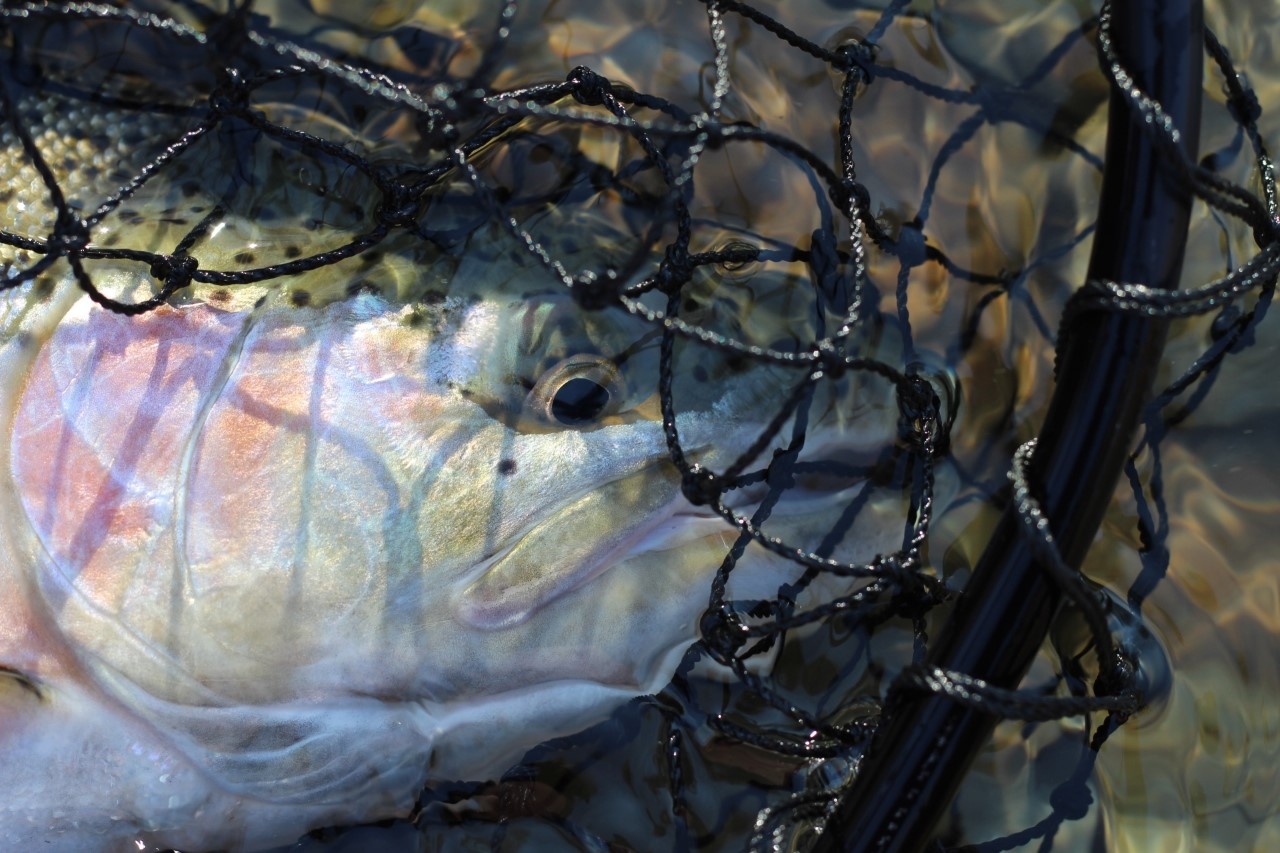 5. "When is the best time to go?" So that is a great question and if you're looking for the earliest opportunity to get on to the fish – that pretty much changes year to year. It all depends on the water temps in the lake and the flows in the tributaries. Rainfall in September and October is a very good thing especially when it causes the tribs to swell to blowout conditions. This opens up the mouths of the tribs, lowers the water temps and provides the flows that the steelhead need to make their way throughout the stems of the tributaries. Cooler daytime and nighttime temps also help turn the fish on to thinking it's time to run. Historically, mid-October is a good time to start thinking about perhaps making a drive to Erie. There will be fish there though throughout the winter into early spring.
6. "What is the best type of wading boot sole to wear on the tributaries of Erie?" While this can be a personal issue with everyone seemingly having a different opinion on this, I have used studded felt soles for many years and have trusted them over rubber, studded or not. While the felts are absolutely useless on slippery muddy trails and will "cake" up in freezing conditions when walking on snow covered trails leading to the water, they are, I feel, the best material to have on the bottom of your feet when wading these tribs. The stream bottom of many of the tributaries there consist of a flat shale bottom which can be slippery with rubber soles. Especially in heavy, high water. Korkers wading boots are a great boot to have as the soles are interchangeable. And – yes, I always carry a wading staff with me when I'm on the water there. Highly recommended.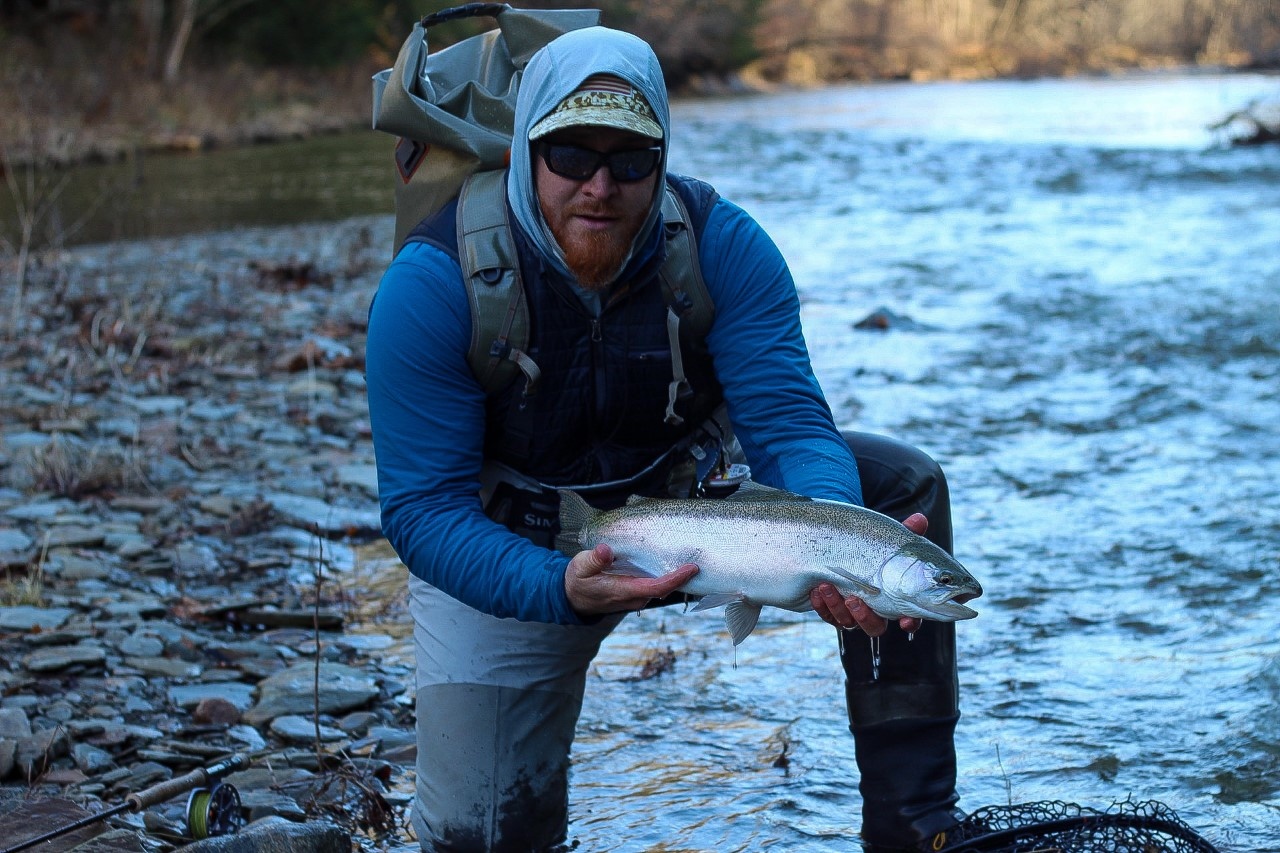 7. Lastly, and this is a safety issue that I always suggest to others. Those of you who have attended my steelhead seminars have heard me discuss this – The best fishing times are when the water is on the drop or on the rise from a recent rainfall. When it is on the drop – your good to go and wade where you feel safe. When it is on the rise though, you really need to only fish from the same side of the stream from where your truck or car is parked. Every year there are tales of others who have had to spend the night in their waders because they got caught on the other side and could not get back to their vehicle before dark. It's not a good place to spend the night, especially when the temps drop below freezing. Use good judgement and watch the weather radars on your phone – especially to the south. It can rain heavy 5 miles away to the south and not where you're at. Suddenly while your 3 miles downstream, you find yourself unable to wade across the tributary to get back to your vehicle. One thing though to remember that if you find yourself in this situation, don't risk it by making the attempt to cross – especially in the dark. Carry a lighter, build a fire, and stay the night. Much more comfortable than trying to survive a drowning.
So – yep, it's that time of year again. If your planning on going up, stop in at any of our shops before you go. We love to chat about this fishery and share stories. We have the material to tie whatever you need, if you don't tie – we have the flies you need, and we have the gear and clothing you need. And perhaps if you've never experienced this fishery, after reading this piece of writing, you'll feel that need of perhaps "giving it a try"