Add your review
Intro to Fly Fishing Class - Lancaster
Intro to Fly Fishing Class - Lancaster
Article code
IFFLANC-3/12/23
Join us for this Intro to Fly Fishing Class in Lancaster led by Precision Fly & Tackle Guide and Educator Tom Herr. Tom will teach you all the basics to get you out on the water comfortably on your own! Come see what it is all about. Read more
Description
If you do not see a date that suits you select DATE TBD, and the instructor will be in contact with you to set up a date.
Precision Fly and Tackle is pleased and excited to offer a course covering everything one needs to get started in the exciting world of fly fishing. Throughout this 5 – 6 hour course, the instructor will explain the basic concepts and fundamentals of casting, equipment set up, fly selection, entomology, reading the water and knot tying, and much more. All equipment is included during the class if needed except for waders. There will be plenty of time to answer any questions which are very much welcomed throughout the instruction. Refreshments will be provided during the course. Lunch will not be provided so please feel free to bring along something to eat during our breaks. You will also need to have and bring along with you is a PA fishing license and trout stamp which can be purchased online at www.fishandboat.com.

Classroom - 2.5 hours
• Choosing the correct equipment – Types of fly rods, types of fly reels, types of fly lines
• Setting up equipment – Backing, Fly Line, Leader, Tippet
• Basic knot Tying
• Fly Pattern Selection
• Basic intro to Entomology
• Trout Behavior
Casting - 1.0 hour, outside
• Basic Cast - overhead
• Roll Cast
• Tight line nymph techniques explained
Streamside - 1.5 hours
• Reading Water
• Presentation Techniques
• Tactics on Approach
• Putting what is learned to practice
Course Cost: $125 per individual
Payment can be made at any of the 3 Precision Fly and Tackle shops prior to the course date. Payment, as well as booking, can also be made via our website located at
www.precisionflyandtackle.com
, and simply navigate to the course offerings by location.
Tom Herr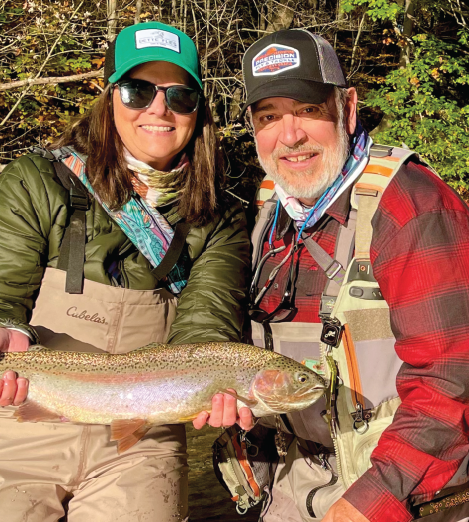 Tom Herr will be the instructor running the course in Lancaster. Tom is an employee at the Lancaster Precision Fly and Tackle shop and has enjoyed the pastime of fly-fishing and fly tying for well over 50 years. – starting at the age of 8 years old which is when he tied his first fly. His passion has taken him to various locations where he has fished for salmon, trout, warm water, and saltwater species found within the waters of Alaska, the Florida Keys, Montana, Colorado, Oregon, Northern California, Maine, New Brunswick, Western Canada, and also here in his home waters of Pennsylvania where he has found that the spring creeks of the Cumberland Valley are some of the most challenging fisheries in the world.
He is a renowned tyer who represented the United States at the 2019 Atlantic Salmon Fly International held in New Brunswick. He was one of 80 individual tyers from around the world who were invited to demonstrate their skills to the general public during this three-day event. Currently, he is on the planning committee for the 2023 ASFI event that, although a location has not been decided yet – the likely location will be Italy. He will also be recognized by the Fly Fishers International organization during the summer of 2022 when one of his ties will be placed on permanent display at the FFI museum located in Livingston, Montana.
He has also donated his artistic tying creations of which he also mats and frames himself to organizations such as Casting For Recovery, Project Healing Waters, American Cancer Society, National Wild Turkey Federation, and the Global Hunger Relief Fund. He also does projects for individual servicemen and women as well as their families. He has also served many years as a guide for outings scheduled by Project Healing Waters and Casting for Recovery.
He is well respected within the fly fishing community and is passionate about flyfishing and his positive attitude and personality shows through when he guides, teaches, and explains the various aspects of flyfishing and tying. Tom maintains a website located at
artisticflytying.com
.
5
stars based on
14
reviews