Add your review
Intro To Fly Fishing Class - Mount Holly Springs, PA
Intro To Fly Fishing Class - Mount Holly Springs, PA
Article code
IFFMHS-3/18/23
Join us for this Intro To Fly Fishing Class at our Mount Holly Springs location. Our Intro To Fly Fishing Class will teach you all the basics to get you out on the water comfortably on your own! Call 717-486-4646 for additional dates. Read more
Description
If you do not see a date that suits you select DATE TBD, and the instructor will be in contact with you to set up a date.
Precision Fly and Tackle is pleased and excited to offer a course that offers what one needs to get started in the exciting world of fly fishing. Throughout this 5-6 hour course, the instructor will explain the basic concepts and fundamentals of casting, equipment setup, fly selection, entomology, reading the water and knot tying, and much more. All equipment is included during the class if needed, except for waders. There will be plenty of time to answer any questions which are very much welcomed throughout the instruction. Refreshments will be provided during the course. Lunch will not be provided, so please feel free to bring along something to eat during our breaks. You will also need to have and bring along with you a PA fishing license and trout stamp, which can be purchased online at www.fishandboat.com.
Course Location:
Precision Fly & Tackle
Mount Holly Springs Store
502 N Baltimore Ave
Mt Holly Springs, PA 17065 
Course Outline:
Classroom - 2.5 hours (indoors)

• Choosing the correct equipment – types of fly rods, types of fly reels, types of fly lines
• Setting up equipment – backing, fly line, leader, tippet
• Basic knot tying
• Fly pattern selection
• Basic entomology
• Trout behavior
Casting - 1 hour (outdoors)
• Roll Cast
• Basic overhead cast
• Tight line nymphing techniques explained
Streamside - 1.5 hours (outdoors)

• Reading Water
• Presentation Techniques
• Tactics on approach
• Putting what is learned to practice

Course Cost:
$125 per person

Payment can be made at any of the three Precision Fly & Tackle shops prior to the course date. Payment, as well as booking, can also be made via our website located at www.precisionflyandtackle.com, and simply navigate to the course offerings by location.
Instructor Bio:
Seán Earnest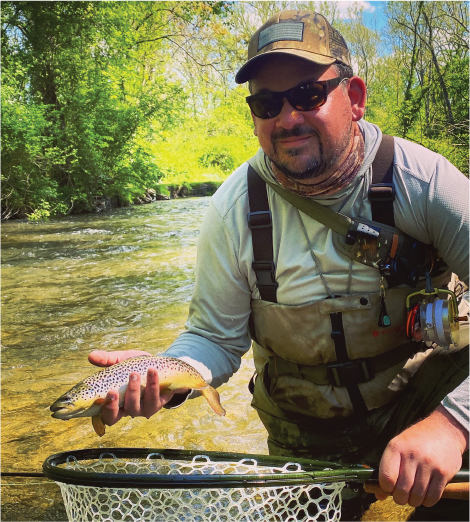 Seán's passion for the outdoors began in south-central PA's Cumberland Valley, fishing for trout, bass, and panfish with conventional tackle. Although intrigued by fly fishing and initially dissuaded by false assumptions of prohibitive cost and difficulty, it finally took a relocation to the Catskill Mountains for him to reconsider. With no other sportsmen in the family to consult, Seán bought his first fly outfit and made for the storied Esopus Creek, befriending numerous anglers and mentors over the ensuing years. Time on the water, books, the wisdom of friends, and even YouTube helped him learn to cast, about fish behavior and diet, and techniques for catching them. Places and people have had the most lasting impacts on Seán's development as an angler. Connecting with the land and water, making new friends, sharing stories and wisdom all come naturally. Having lived in Oregon and experienced its majestic salmon and steelhead, the myriad rivers and lakes of Ireland where he spent 5 years, the fjords of Iceland, and the frenzied blitz of striped bass and false albacore on Martha's Vineyard island, Seán has gained a redoubled appreciation for Pennsylvania's limestone spring creeks. Seán enjoys teaching those who share his can-do attitude, thirst for knowledge, and sense of adventure! As an instructor, his main focus is to foster self-confidence and esteem through competency in a new pursuit, and wellbeing through connectivity with nature and fellowship with the community. Seán is proud to introduce newcomers to the sport of fly fishing to the many wondrous waters of southern and central Pennsylvania.
5
stars based on
6
reviews